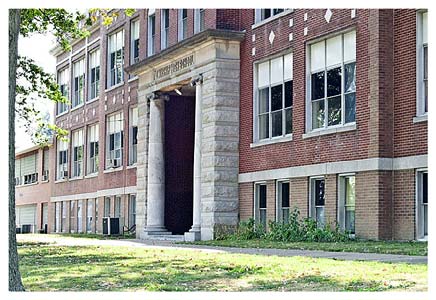 Watch the complete 1965 championship game
WELCOME
......to the home of the 1965 Collinsville Kahoks! We're glad you're here to share a few moments with us.
The halls of old CHS saw each of us struggle to reach adulthood, watched us laugh, cry, and bond with each other. The football stadium is long gone, and the old gym no longer stands to the right of the main building. The third floor classrooms are probably still just as shaky as they were back then though - wouldn't it be fun to find out? We had the chance to walk through the old halls a couple of reunions ago, and it seemed so quiet and peaceful - so different from what I remembered.
We were, and are, the 1965 Collinsville Kahoks. Our basketball team became the 1965 Illinois State Champions under the guidance of Coach Fletcher. All of our sports teams battled hard for us and helped us to learn dedication, effort, and the joy of difficult jobs done well. Our scholastic teams and clubs helped us to learn some of the same lessons, and encouraged our desire to do our part to make our world a better one. We watched as John Kennedy was taken from us, and mourned with the rest of the nation. We learned to contribute, in large ways and small, what we could to our country and our community. We grew, not only in age but in education, and as citizens of the greatest nation on earth.
Collinsville High School. We have come a long way since our days in class and Friday nights at the Tepee. We've traveled many miles, and have experienced so much. As I look back on our years there, I am reminded of so many friends. Some no longer with us. Others that we have lost contact with over the years. And still others who I hardly knew back then, but who have become much closer with the passing of years. As I age, I am reminded that old age is like a bank account, where we withdraw what we have deposited along the way. Every day is a gift, and as long as I can open my eyes, I will focus on the happy memories that I have built up over the course of my life.
Please take a minute or two to register on the site so that we can maintain current contact information for everyone. And always feel free to let us know your thoughts and opinions about how we can make this site better. Shoot me an email or go to the Links page to fill out the comment form.
Watch the complete 1965 championship game
Register
©2007-2017 - The 1965 Collinsville Kahoks